The accreditation as Gold Partner by Cloudera, world leader in Big Data solutions, makes PUE the first organization at EMEA region (Europe, the Middle East and Africa) with this recognition. This Certification recognizes the quality of our services consolidating PUE as a reference implementing consulting projects based on administration, development, advance analytics, Machine Learning, etc in the scope of Big Data.
SUCCESS STORY
Learn how Podo have successfully applied technologies such as Cloudera Big Data, Cloud, DevOps, Continuous integration and process improvement with PUE as technology partner.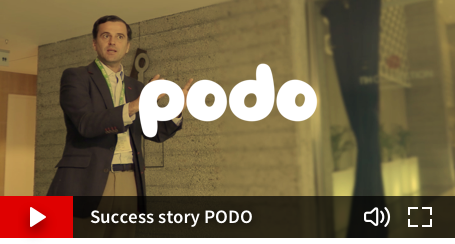 OUR BUSINESS MODEL IN BIG DATA CONSULTING WITH CLOUDERA
To be the first organization in Europe with the Gold category of the Cloudera partner program is a success as result of three intense work years, the proven quality of our services and the pillars of our business model in terms of Big Data consulting. In this post we share some of them:
We cover all the phases in a project: Platform Architecture and Tuning, spark developments oriented to fix business problems, advance analytics and data science.
Our team consists in certified full stack consultants and developers in all areas, with more than 30 technical certifications.
8×5 and 24×7 support services for the Big Data solution implemented.
As an added value, we integrate the academic approach with the professional services for companies.
Huge experience and knowledge of Cloudera DataScience Workbench, what allows us a data science fast, easy and safe for companies.
We have created and registered an Opensource solution in the Cloudera Solution Gallery: PUE Solr DataSource for Grafana, contributing to the collaborative spirit of the Apache community. Grafana is the open source software for time series analysis and PUE has created a plugin to provide an advanced data source to query the Solr server> = 4. This data source offers support for the Solr version included with Cloudera CDH 5.X.
Thanks, Cloudera, for this great recognition. This accreditation excites us even more to continue offering our experience and availability for the organizations what are willing to improve and grow with Big Data
CONTACT:
We would like to explain to you our adventure as experts in Big Data consulting and see, together, how can we help your organization.
INTERESTING LINKS: